2022 Volvo V60 Cross Country Review: A Luxury All-Weather Wagon
The humble station wagon was the transport of choice for families in the '60s, '70s and '80s. Then sport utility vehicles started with higher ride heights and similar cargo space and most Americans switched to one of them. But Volvo hasn't stopped making wagons since its entry into the US in August 1955.
The first Volvo PV 444 was unloaded at a port in Long Beach, California, and two years later Volvo Cars became the second largest import brand in California. Its first wagon was based on the PV, called the Duett, and from that pedigree comes this 2023 Volvo V60 Cross Country wagon.
The second generation Volvo V60 debuted in 2018 and has received annual updates bringing it to this year where every Volvo vehicle will have some form of electrification. Google Assistant and Google Maps are built in, and the Google Play Store is used to add more apps. Over-the-air updates are now standard.
The V60 has a similar interior to the S60 sedan and XC60 SUV. It has a vertically oriented 9-inch touchscreen, but it works faster than the old system. Apple CarPlay and Android Auto are both standard, as are Bluetooth connectivity and onboard Wi-Fi.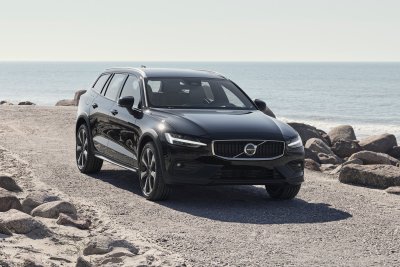 2023 Volvo V60 Cross Country B5 AWD
The cabin of the 2023 Volvo V60 Cross Country features a crystal changer surrounded by two cup holders and storage, resulting in redundant buttons for the audio system, including volume and tuning. The steering wheel also features buttons for audio and cruise control.
The seats in the Ultimate trim have heat and ventilation along with a massage function. The second row is spacious for child seats, which are easy to click in, although the cargo area with the seats in place was not as large as expected.
The 2023 V60 offers 18.3 cubic feet of space with the seats up, and more than 31 cubic feet when the seats are down. It's bigger than an average sedan, and even bigger than the Volvo XC60 with the seats in place. But it's still less than the BMW X3 and Mercedes-Benz GLC-Class. However, it swallowed supplies for a family of four heading north for the weekend.
The driver is treated to a 12.3-inch digital cluster with four-zone climate control, a panoramic sunroof and tons of seat adjustment including under-knee support. Visibility is good in all directions, aided by a 360-degree camera, and air vents have knurled chrome knobs for easy adjustment.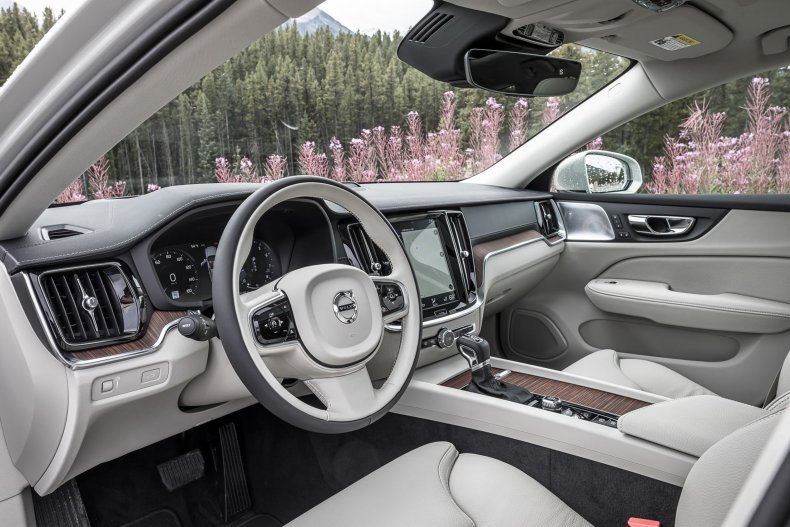 The Google-powered infotainment takes some getting used to, but it helps to remember the home button at the bottom to start over. It's not as easy as some to switch between Apple CarPlay and native radio, but after a week with the vehicle, most of it becomes second nature.
The 2.0-liter turbocharged four-cylinder engine combines with a mild hybrid system for 250 horsepower and 258 pound-feet of torque. All-wheel drive is standard with an eight-speed automatic transmission, but the drivetrain as a whole is surprisingly less refined than expected.
The power output is adequate and gas mileage is good at 30 mpg on the highway, but it's a little harsh in the cabin when pushed. The engine sounds gravelly, a change from Volvo's normally smooth notes. The passing power is good at almost any speed.
The suspension is adaptive and height-adjustable with an off-road mode that puts the vehicle on its toes. Crawling over grass, brush and light rocks is easy and safe, and it's the same with snow and ice. In normal operation, the 2023 Volvo V60's suspension (with its optional 20-inch wheels on all-season tires) is comfortable and quiet. Comfort mode works as advertised, but even then the wagon handles better and more accurately than most SUVs, which have a higher center of gravity.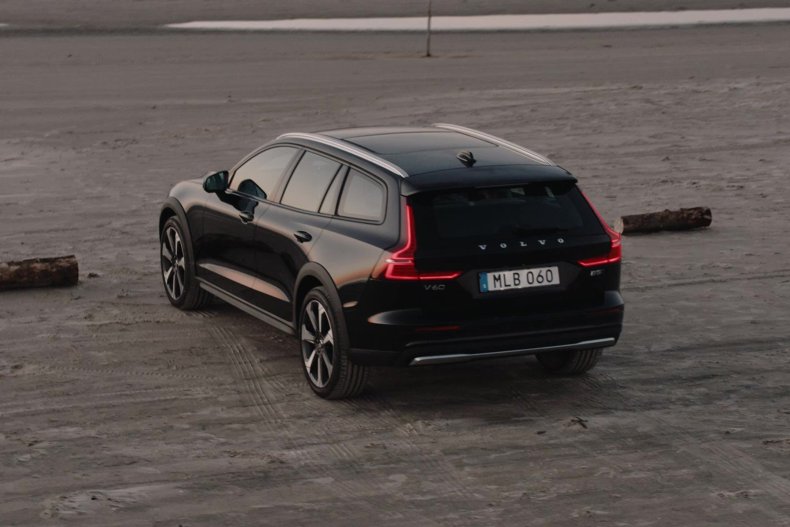 Automatic emergency braking with pedestrian detection is standard along with lane departure warning with lane keeping assist. Adaptive cruise control with semi-autonomous Pilot Assist driving mode is standard. Its steering intervention keeps the driver safe, but does get a little annoying with its micro-adjustments.
The 2023 V60 has fewer competitors than it once had, but still some popular ones. The 2023 Audi A4 Allroad is on sale starting at $45,500. The Subaru Outback is less luxurious but much cheaper at $28,395. This Volvo V60 Cross Country starts at $50,095, though this Ultimate version checks almost every box for a total of $63,585, including a $1,095 destination charge.
There are far fewer wagons to choose from than there once were, but they are all better, safer, faster and more fuel efficient than what came before. They are also much more exciting than another SUV or crossover on the neighborhood street.
Both the Audi and Volvo wagons are lovely places to spend time, but the Subaru Outback is the most versatile. The Outback has more space than both and more off-road capability. Die-hard luxury buyers should look at the German and Swedish wagons first, everyone else should start with the Subaru.