7 Top Ways to Fix Instagram Calls Not Working on Android
Instagram voice and video calls are not working. Here is the simple guide to fix Instagram calls not working on Andorid.
Instagram calls not working on Android devices? then check this guide to know the troubleshooting tips to solve the problem easily. For the uninitiated, Instagram has a feature that allows you to post voice calls and video calls with your followers. Sometimes this feature does not work as intended.
Let us know the common reasons why Instagram calls might not work. The app may be officially down due to maintenance. It could be a bug on the current version of the app installed on your device that is interrupting the Instagram calls. The app may not have permission to access your microphone and camera, which are needed to make video and voice calls.
Also, if the internet connection is poor, it will be almost impossible to make a video call or voice call. If the app cache is filled with junk data, it can hinder some functions, including the ability to make video calls or voice calls.
Tips to fix Instagram calls not working on Android
Here are the various troubleshooting tips that will help you to resume Instagram calls on your Android devices.
1. Update Instagram app
Start by updating the app from the Play Store.
Start Play store > Tap up Gmail ID avatar.
Choose Manage apps and devices > Then tap on Updates available.

See if Instagram has a pending update lying around.
Tap the button update next to Instagram to start the version update.

Launch Instagram after the update is over.
Now try making a video call or voice call, and it would work if that was the bug that caused the features not to work before.
2. Clear cache from Instagram
Here are the steps to clear the junk data from Instagram app cache.
Long press the Instagram app icon by going to the Android app drawer.
Tap the Shortcuts menu App information.

Tap under the app information section Storage and closet.
Then tap up Clear cache.

Launch Instagram and try making video calls or voice calls. The features should now work smoothly.
3. Check if Instagram is down
Go to the Downdetector website to check if the Instagram servers are officially down. This happens when the company needs to address some major bugs in the application to perform any maintenance. You can also check on Twitter forums to know from other Instagram users or on Instagram's official handle if the app is down for some sort of troubleshooting.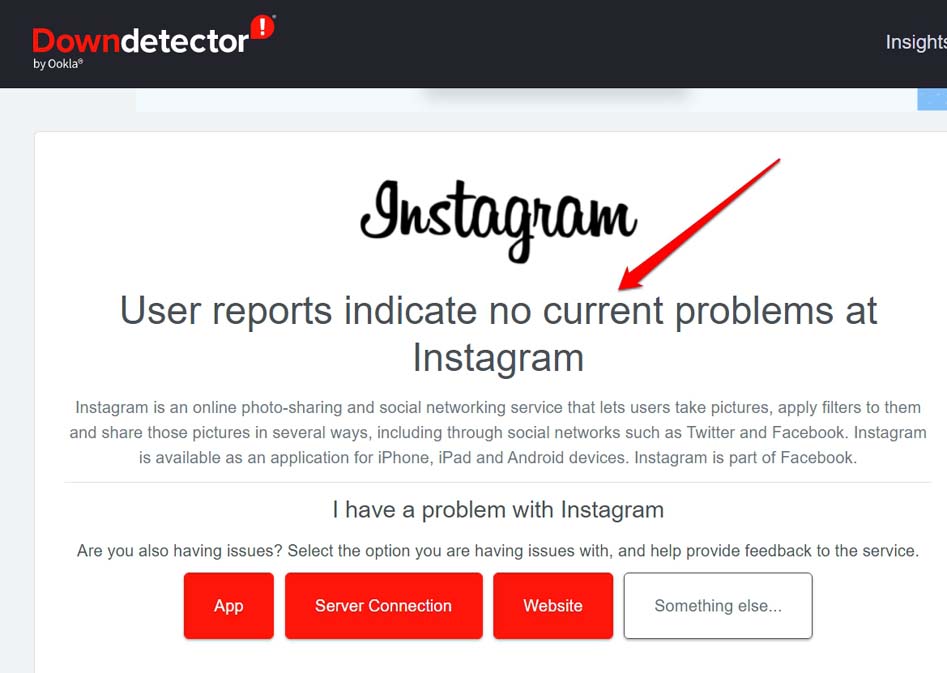 4. Data saver feature may be active
As the name suggests, Instagram offers this Data Saver feature which, when active, will limit some features of the app. So, you have to turn it off. Here are the steps for it.
Start the Instagram app.
Among the Profile section, tap the 3-bar button to expand the menu.
Choose from the menu Institutions.
Go to Account.


Tap up Cellular data usage.
Disable Data saver by tapping the switch next to it.

5. You may be blocked or restricted
Often, the follower you are trying to make a video call or voice call with may have blocked or restricted you. Instagram calls on Android may not work if the follower you're trying to reach has deleted their Instagram account. You just don't see their Instagram account listed in your follower section anymore. If this is the case, you can try reaching out to them on other social networking platforms.
6. Fix the internet connection
Although nothing could be the problem at the end of the application, it could be the internet connection on your end that is causing the Instagram calls not to work. Reset your WiFi router and also get in touch with the ISP support team. Register a complaint to know if the ISP servers have a problem or if there is any other phenomenon, such as bad weather, that is causing the internet disruption.
You can also connect your Android device to any other WiFi or even run it on mobile data. However, to post a steady video call or voice call on Instagram, a high-speed and stable network is always preferable.
7. Set the App Permissions for Instagram
In simple words, you need to allow Instagram to access your microphone and camera. These are the two primary elements that are important for making both video and voice calls on Instagram. Here are the steps to enable permissions for Instagram.
Find the Instagram app icon in the Android app drawer.
Long press the app icon and select the option App information from the settings.

Tap under the App information Permissions.
See if the Camera and Microphone is stated below Not allowed.
Tap on Camera and Microphone, and set them up Allow.

Launch Instagram and try making video calls and voice calls. It should now work without any problem.
Closure
Today's technological advancements allow you to make video calls and voice calls using social media platforms. So why not make good use of it? If Instagram calls are not working on Android devices, then follow the tips mentioned in this guide to fix it and resume your calls effectively.
If you have any thoughts about How to fix Instagram calls not working on Android?, then feel free to drop by below comment box. Also subscribe to our DigitBin YouTube channel for video tutorials. Cheers!