I Hated Warming Up Before Workouts Until I Tried the Movement Vault Mobility App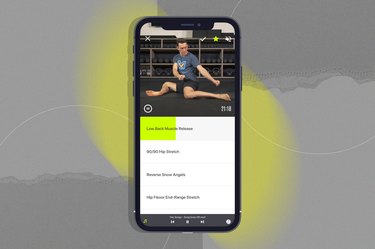 I have always been an avid runner, but recently I had to withdraw from a few races. In June, I was plagued by stiff hips and excruciating lower back pain, which resulted in months of physical therapy. And honestly, I'll be the first to admit that I don't warm up properly or pay much attention to my mobility.
I am now recovering and can run (mostly) pain free again, but I am much more aware of how I prepare for my workouts. And while I was given some exercises to do at home by my physical therapist, it wasn't always the easiest to find motivation to complete movements on a printed sheet of paper with little guidance.
I wanted to continue my progress even after I "graduated" from my twice-weekly PT appointments, but wasn't sure I could keep doing the same handful of exercises without getting bored.
Enter: Movement Vault, a comprehensive flexibility and mobility program and app designed to improve your range of motion to support your movement for both training and life.
Warning
If you're recovering from an injury or experiencing pain, be sure to talk to your doctor before starting a new exercise routine.
First, it is suggested that you start with a 14-move mobility assessment. You will be assigned a total mobility score along with an individual mobility score for each major area of ​​your body. You can use these scores to help you figure out which joints and areas of your body are tight and focus on improving your mobility in these areas.
From there you can choose from a wide variety of classes and mobility exercises – new videos are posted daily, including daily standard classes, recovery exercises and more. (It's worth noting that there is a free version of the app and a premium version, and the premium version offers a wider variety of workouts than the free version. You can also download the workouts for offline use with the premium version.)
In addition, the app offers a custom routine builder, where you can create your own perfect routine based on time, areas of your body you want to focus on and the equipment you have available.
The app also includes pain and injury programs, which are multi-week programs focused on relieving pain or repairing an injury in a specific body part, such as your lower back.
"My goal is to truly change the way joint health and body maintenance is viewed," says app founder Grayson Wickham, DPT, CSCS. "I want to change the way people think about their bodies and make them see the value of proactively working on their joint health and mobility."
Regardless of whether you use the app three times a week or every day, it is designed to help you find a dynamic stretching program to help you improve your joint health and mobility. You can use Movement Vault in tandem with your typical exercise routine.
How are the classes?
Because everyone has different training goals and experiences pain or lack of mobility in different areas, no two experiences will be exactly the same.
Wickham notes that after working with hundreds of people, there are many similar patterns that lead to pain or lack of mobility, which is why this program can be translated across all abilities and fitness levels.
To help you choose a class or program, you can first see a full description of what the workout entails, including which body parts you will focus on, which exercises the movements will help you prepare for, the modalities that you will complete , the muscles you will activate, the equipment needed and an overall preview of the class. Once you press "start class" you will still be able to see this information.
An instructor will talk you through each movement of the workout, then do each movement with you—demonstrating proper form and offering modifications that can help you make the movement more difficult.
I mainly chose classes with a focus on hips, lower back and core, but also added some varied mobility flows throughout the week. It looked a little like this:
‌Sunday:‌ Flow (full body mobility)
‌Monday:Lower body, back and core
‌Tuesday:Custom routine (warm-up beforehand)
‌Wednesday:Hips and core
‌Thursday:Custom routine (warm-up beforehand)
‌Friday:rest day
‌Saturday:Ankles, hips and core
I built a personal 10-minute routine to use as a pre-run warm-up, again focusing on my hip mobility. Take it from me, runners, you need to do a dynamic warm up to prepare for your run to stay injury free.
What's cool about this app is, even when you're building a routine, you can see the difficulty level, equipment needed, and the benefits of each move just like you would in the pre-programmed classes.
To keep you accountable, in your profile you can track your stats, including the number of sessions you've completed, your total mobility time, the average duration of your workouts, and your longest streak. As you progress, you can retake the mobility assessment to help track your progress.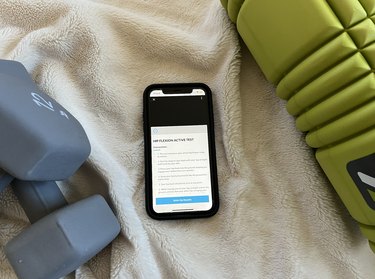 You can use Movement Vault's filtering system to quickly find the perfect stretching and mobility routine for you. Not surprisingly, I focused on the hips, lower back and core after classes, thanks to my experience in physical therapy and my mobility assessment results.
You can favorite classes you like so you can easily return to them without searching for the app.
The app helped me establish a routine. Due to working with a PT two days a week for an injury, this app has helped keep me accountable to continue daily dynamic stretching and mobility work.
Aside from the mobility routines, the app offers exercises that focus on one part of the body, pre-workout warm-ups, recovery stretches (which focus more on static stretching and foam rolling) and workouts that can be done anywhere.
The app is currently only available for iOS, but Android support is in the works. (In the meantime, there is a web version that will allow you to play Movement Vault on Android, tablets, etc.)
While the free version of Movement Vault gives you access to the app, you'll only be able to get a select amount of workouts for free. Upgrading to Premium Movement Vault is $14.99/month or $119 per year, which may be prohibitive for some.
While the app offers fairly comprehensive explanations and demonstrations of each move, without someone watching you and giving feedback, there is potential for doing the moves wrong.
Those demonstrating the movements on screen do not include size.
Movement Vault contains comprehensive programs that are compiled using science and research-backed techniques, along with Wickham's years of experience in treating patients. This sets the app apart from just pulling up stretching or mobility videos on YouTube.
In addition, every technique is checked by professionals like Wickham, and the workouts are designed in a specific order to ensure you get the best value for your money.
Athletes often think they are getting enough exercise through their training, but forget important steps like a proper warm-up or mixing up their workouts, which is where Movement Vault comes in.
For example, runners may get a lot of movement throughout the day, but running is performed in one range of motion. It's important to vary your movements and make sure your muscles have proper range of motion. If they don't, other muscles can compensate to complete the movement, which can lead to injury over time.
If you are not an avid exerciser and are more interested in just living life with fewer aches and pains, you will be able to find a program for you that will help you become more proactive with stretching and mobility.
"Our body conforms to the positions we spend the most time in," says Wickham. "For most people, it's sitting down, which leads to stiff muscles and joints."
The great thing about this app is that there are many exercises that you can do without equipment and require little time. For example, there are short routines you can do from your chair while working from home to reduce the stress on your body and correct your posture. Again, this is not just for athletes.
Start your mobility journey with Movement Vault
‌Download it: iOS; ‌Price: Free for basic membership; $14.99 per month for premium membership