New Garmin Fenix 7/Epix/Enduro 2/MARQ 2: Beta Program Features Update!
Not one to be outdone by Apple's big firmware updates this week, Garmin has announced the start of their next quarterly update release. As you may recall, Garmin has switched to the quarterly release schedule for feature updates, but that also includes bug fixes. As usual, other bugfix updates may occur outside of that schedule as needed – but the most important features are now released quarterly, and ideally all at once across all current generation watches (or bike computers / etc…).
As part of that, Garmin has their Beta program for every device model. That beta program starts with so-called 'Alpha Builds', and then after what is usually 3-5 weeks, it escalates to 'Beta Builds'. The Alpha builds must be manually downloaded to your watch using a computer, while the Beta builds appear automatically on your watch using WiFi/Bluetooth. Both are part of the 'Beta Program'.
In today's update, Garmin has added a range of features that are quite diverse. Some of them, like the Jetlag Advisor comes from the Garmin MARQ Gen 2 series when it was launched in October (I explain the feature here), while others are extensions of existing features (like adding Stamina data field to cycling, or adding PacePro strategies for the Race Widget).
If you want to join the beta program, you can do so here, or I've written instructions here.
What's new: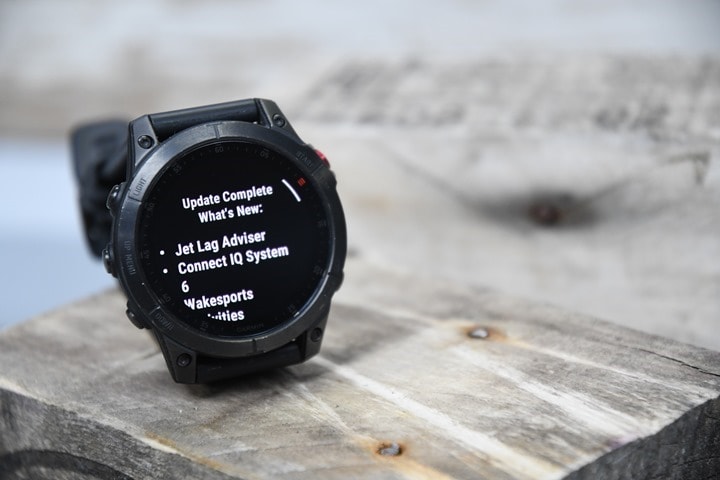 Generally, this tends to be the tip of the iceberg. We usually see further additions, but these are the ones Garmin feels are best ready for public use at this point. Since the likes of the Jetlag Advisor have been on the Garmin MARQ Gen 2 series for a few months, they've been further baked.
Oh, and for those wondering about the Forerunner 955/Instinct 2/etc…as usual, different watches have different time frames for when they start their quarterly release beta program. Sometimes the Forerunner team gets there first, sometimes the Outdoor team (eg Fenix) gets there first. In this case, some of these traits won't land on a Forerunner anyway (like the Sailing traits). However, Garmin has previously committed that the Forerunner and Venu lines will get the Jetlag feature, though they haven't specified an exact timeframe or which exact models (I'd assume FR955/Venu 2 Plus, and maybe FR255).
This applies to the watches of the Fenix ​​​​7 series, Epix (Gen 2) series, Enduro 2 and MARQ (Gen 2). The exceptions are both the MARQ Aviator and Tactix, which Garmin kind-of-but-doesn't-really-explain-why here.
Anyway, here's what's new as part of Alpha Build 11.15 (which you'll need to manually download as a reminder):
Added distance to start data field to the Sailing Race activity on the Regatta Timer page.
Added Jet Lag Adviser to Fenix ​​7, 7S, 7X and Epix Gen 2.
Added multi-code point emoji support.
Added PacePro strategy page to Race widget.
Added Race Day Map to Morning Report.
Added Sail Expedition app.
Added Stamina data field to cycling.
Added support for Connect IQ System 6.
Added unspecified gender support.
Added Wakesport activities (Wakesurf, Wakeboard, Waterski, Tube).
Added Workout performance score to post-activity summary.
Improved the Anchor app by adding a map page, anchor waypoint and circle representing the drift radius.
Note that I've only detailed the specific new features page, not all of the 'improvements/changes' area, nor all of the bug fixes. All these are fully listed here. The one exception I drew in the above list is the last one, as it basically added a bunch of features. Makes sense?
Random Notes:
First, for those unfamiliar with the Jetlag Advisor, I would recommend reading my MARQ section on it. For better or worse, I've put this feature through the wringer over the past three months. I think I've done somewhere around 3-4 transoceanic round trips since then, with time zone shifts upwards of 12 hours, as well as short basically one-day work trips across the pond and back. Collectively, the Garmin Olathe and Firstbeat teams groan every time they see me get on a plane, but it's definitely getting better.
The first thing to know is that you need to create your trip in the Garmin Connect smartphone app. You will enter the exact travel details, including arrival/destination cities, as well as dates/times. If you have a multi-leg itinerary, it will handle that too. Here is a fake trip for this afternoon that I created: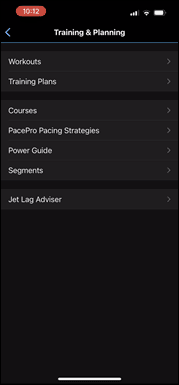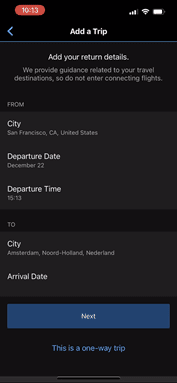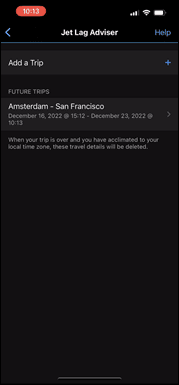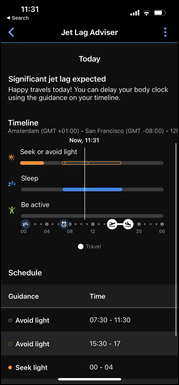 Then, on your watch face, you'll need to add the Jetlag widget (just like you would add a weather/etc widget). To me, this would be an excellent opportunity for Garmin to proactively recommend/offer that you add the Jetlag widget – if it detects a trip created in Garmin Connect Mobile.
Once you do, you'll start getting those recommendations. This includes recommendations on how to seek or reduce light, when to sleep, when to exercise, etc… This is both on the watch and in Garmin Connect Mobile (as shown above).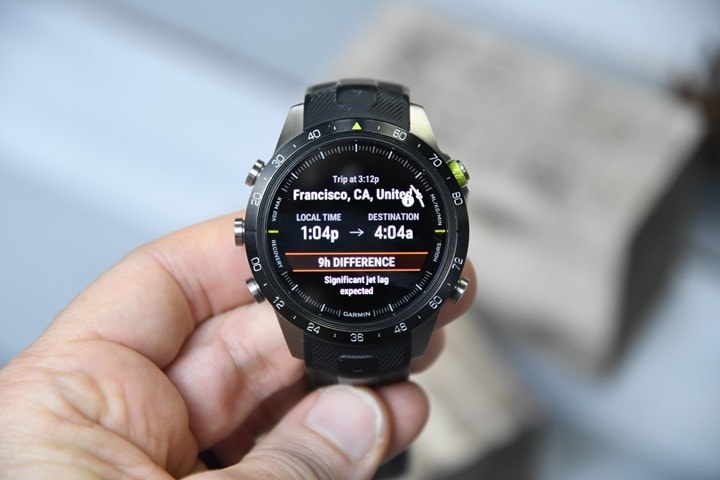 Again, much more detail on that when I tested it on the MARQ range, here.
Next, Garmin seems to have quietly added/started HRV Status sync via Physio TrueUp in the background. This is notable because I didn't wear my Epix or Fenix ​​7 units to bed last night (or at all for the past few weeks), and yet I synced my full HRV status with them after the update ( and after they sync successfully). It's not clear to me if it specifically required the firmware update, or was turned on at the same time. It will be super cool once completed. At the moment it is clearly still a bit beta though, with a few pieces missing.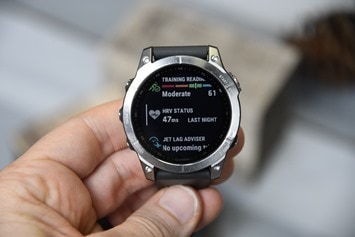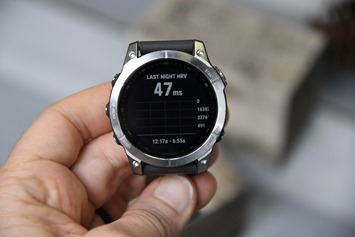 (I've also tried a Forerunner 955 and Fenix ​​7 base that I haven't worn to sleep for a month or so, with both on regular production firmware. Neither shows my HRV -status, so it looks like it needs the new firmware.)
Next, Garmin added the Connect IQ System 6 to these units. It was previously announced at the Garmin Developer Summit this past fall. However, it still doesn't seem to show the Connect IQ browseable store that was shown then. However, this is undoubtedly the preparation for it. Garmin previously said they hope to have the scrollable store available by the end of Q4 2022 (end of December). Now that might be a bit optimistic. Nevertheless, it allows developers to start testing these applications on real devices.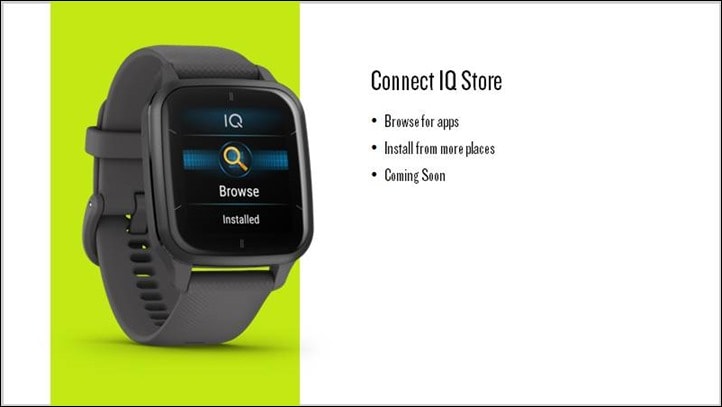 Next, Garmin added multi-code dot emoji support. Which is a way of saying that they added support for skin color variations. You can see an example of this side by side between the Epix (updated) and the Forerunner 955 (not yet added) with the same thumbs up emoji. This emoji shipped with a darker skin variant, and it shows up on the Epix, but not the Forerunner 955. You also see just how much more beautiful the AMOLED screen is.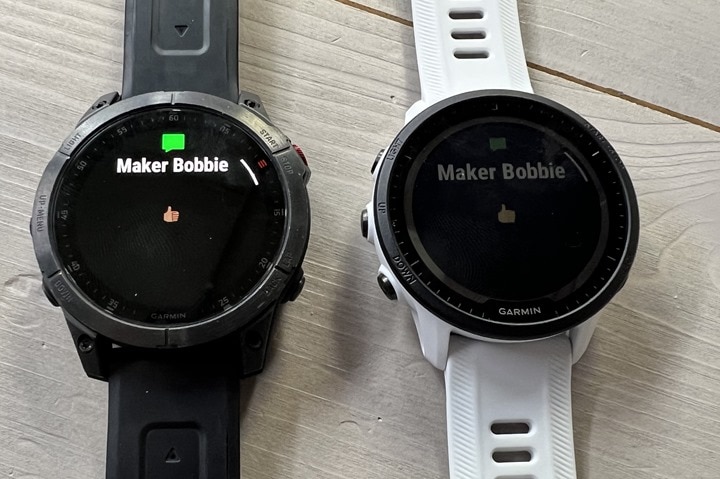 And then as the baseline, here's the previous/standard yellow edition sent, shown on both: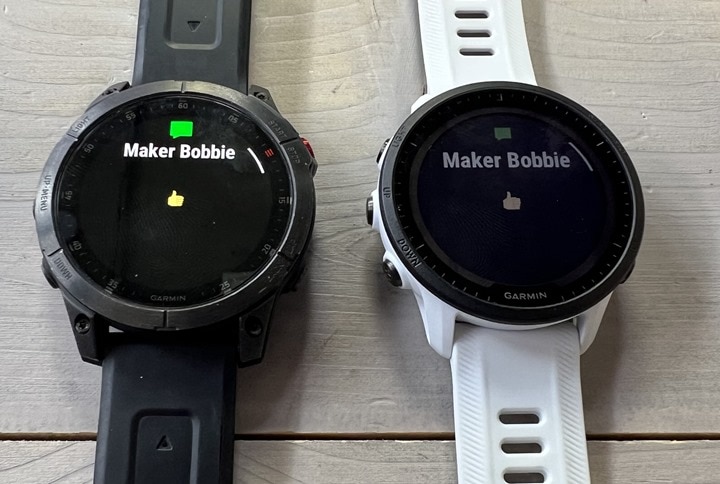 I think for the most part, the remaining items are relatively self-explanatory.
Anyway, more to come I'm sure! With that, thanks for reading!