That's not what climate migrants need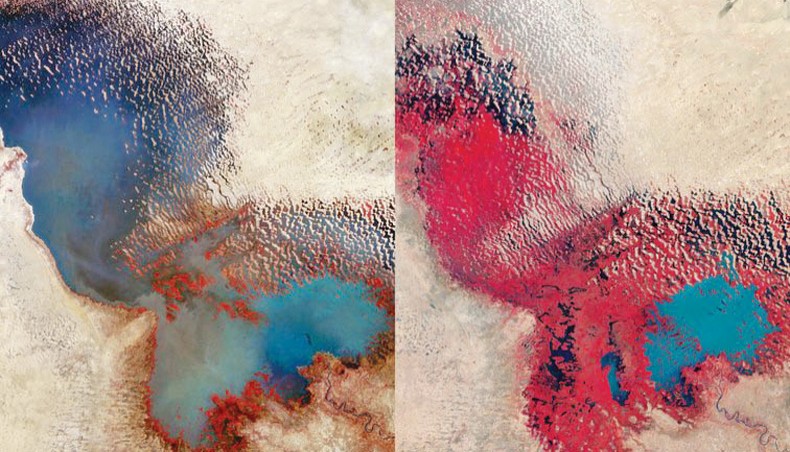 Lake Chad in 1973 and 1978. — Open Democracy/NASA
States that are more likely to withstand climate change challenges are also more likely to use advanced technology to prohibit the arrival of climate migrants, write Lucia Nalbandian
IN CENTRAL Africa, a small freshwater lake bordering Niger, Cameroon, Nigeria and Chad has shrunk by 90 percent over the past few decades. The change in water levels in Lake Chad is contributing to the emergence of a new type of migrant: climate refugees. For people living on the shores of the lake, the falling water levels are an indication of hunger, impending conflict and displacement. For some researchers, meanwhile, examining water levels, the stress the falls place on rural livelihoods and the relationship they have with conflict may indicate when large-scale forced migration may occur.
Climate change has forced people to move from their homes and will continue to do so. Not all will be officially classified as migrants because they will not cross a national border: according to a report by the Internal Displacement Monitoring Center, 23.7 million people have moved into their countries due to climate-related disasters in 2021.
What's more, climate change will exacerbate other problems that are already driving people to move. For example, a White House report found that the region's most vulnerable to climate change typically also experience conflict and violence.
In response to these emerging challenges, some have proposed advanced digital technologies such as artificial intelligence to help governments and others predict and prepare for migrants forced to move by climate change.
For example, tech entrepreneur Babusi Nyoni said in 2017 that he and his team were working on an algorithm to "intelligently propose solutions to an impending crisis, such as this, in the event that it predicts impending famine based on historical data and change the climate trajectory, it will recommend alternative farming methods or alternative food procurement that will meet a changing climate'. Nyoni said they are building an 'easy to use tool for governments'.
Researchers from the Immigration Policy Lab branches at Stanford University and the Swiss Federal Institute of Technology reported in 2018 that they had developed an algorithm to help countries place refugees in areas where they are most likely to find work and at the host society will integrate. They said the machine learning tool could improve the job prospects of refugees in the US by 41 percent and in Switzerland by 73 percent.
In 2019, the Danish Refugee Council worked with IBM Research to develop Foresight, machine learning software that analyzes historical data on politics, economics, crises and climate to predict forced displacement, with the aim of improving humanitarian planning. The council says that the tool is being used in some countries so far. Furthermore, the United Nations Central Emergency Response Fund has also used it to support funding allocation to Afghanistan and the United Nations Office for the Coordination of Humanitarian Affairs in Central America.
The Danish Refugee Council says that the team initially looked at predicting bilateral flows – how many individuals move from one country to another. But some of the problems with such an approach – for example, it can be used to block migration rather than facilitate it – have led it to revise the model. Consequently, it only predicts the number of internally displaced persons, refugees and asylum seekers, limiting the scope to movements of people within borders.
Even Facebook, Palantir and Microsoft are working with humanitarian agencies to support climate migrants. But privacy advocates have pointed out that turning to for-profit tech companies is likely to increase surveillance even further, while not addressing the problems that force people to leave their homes in the first place.
While the potential of these tools seems promising, I am concerned about how they will be used to manage migrants. Early studies suggest that governments tend to view as undesirable those in poor countries who are more likely to cross international borders and become climate migrants. As such, the suggestion that advanced digital technologies are used to predict migration crises caused by climate change before they happen is a dangerous one: it could encourage states to erect barriers to migrants.
The reality is that countries that receive migrants – often the same countries that have largely caused climate change – also use advanced digital technology to control migration and prevent the arrival of 'unwanted' migrants at their borders.
For example, the Austrian Institute of Technology's Foldout project, which is funded by the European Union, uses aerial and satellite data to track people in real time at a border. Sensors in a smart camera paired with artificial intelligence can spot people even through dense foliage.
Similarly, Croatia's Ministry of Interior has deployed drones for border surveillance and arrest. They can spot people almost 10 kilometers away during the day and 3 kilometers away at night.
In Greece, Centaur, a partially automated system, oversees asylum camps in Lesbos, Chios, Samos, Leros and Kos to monitor crowds with cameras, drones and artificially intelligent motion analysis.
Taken together, these various initiatives suggest that European officials are more concerned with the mass control of 'unwanted' migrants than with protecting them.
Further complicating the question is that there is no clear and widely accepted international agreement or definition of who a climate migrant is, let alone what rights and protections they should have. Although widely used, the term 'climate refugee' is misleading: according to the United Nations' 1951 Refugee Convention, refugees are 'people who have fled war, violence, conflict or persecution and have crossed an international border to seek safety in another country to find'. The convention has not been updated for the era of climate change.
We already have cautionary tales of existing examples of the use of advanced digital technologies such as artificial intelligence and big data technologies to respond to refugee flows.
For example, in 2020 the UK Home Office deported around 7,000 international students after a faulty algorithm concluded they had cheated in the English language tests they had to pass to secure their visas.
In the US, the Immigration and Customs Enforcement agency used an algorithm to determine whether individuals arrested for immigration 'offences' should be detained, released on bail or trusted to appear in court. The New York Civil Liberties Union, along with The Bronx Defenders, filed a lawsuit alleging that ICE made changes to the algorithm to completely eliminate the recommendation that defendants be released.
Taken together, these examples only scratch the surface of the real challenges that emerge when advanced digital technologies meet migration management aspirations. This also applies to migration forced by climate change. Whatever the context, the use of advanced digital technologies in hostile or unstable situations carries risks.
What will benefit future climate migrants more is consensus on the policies, programs and procedures by which governments and powerful organizations will respond.
The world needs to agree on a clear definition of who is a climate migrant, what rights and protections they have and, in turn, what obligations and duties governments have to support them.
Advanced digital technologies, meanwhile, are short-term mortgage 'fixes' that can pose serious risks to already vulnerable migrants, both now and many years after these same migrants have established new roots.
Update, December 9, 2022: Some information regarding the Immigration Policy Lab and Danish Refugee Council projects has been corrected and expanded.
OpenDemocracy.net, December 7. Lucia Nalbandian is a PhD student in the Department of Political Science, University of Toronto. Her research interest is technology policy, particularly in relation to migration.