Analytics and Data Science News for the Week of December 16; Updates from Sigma Computing, Tableau, ThoughtSpot & More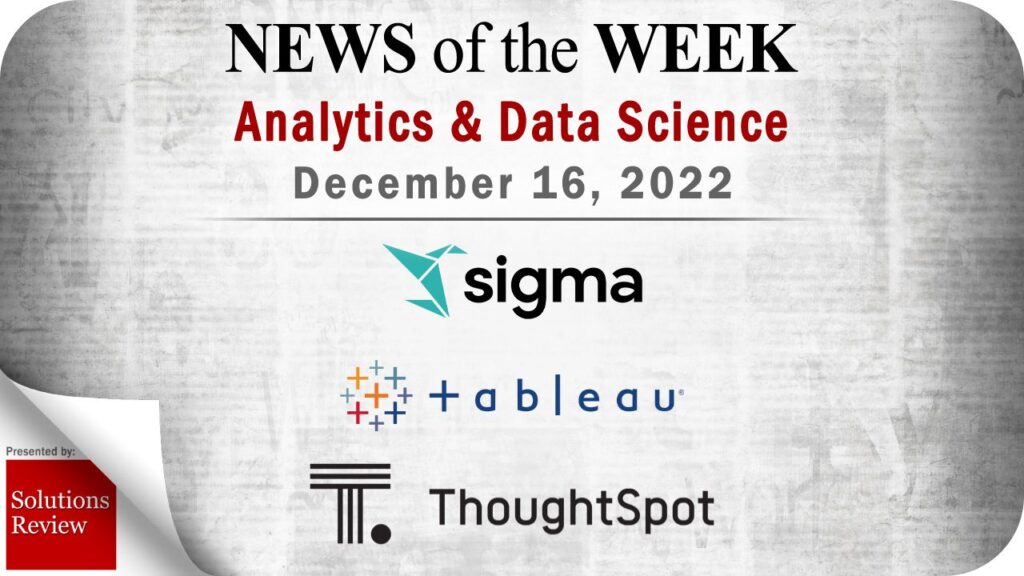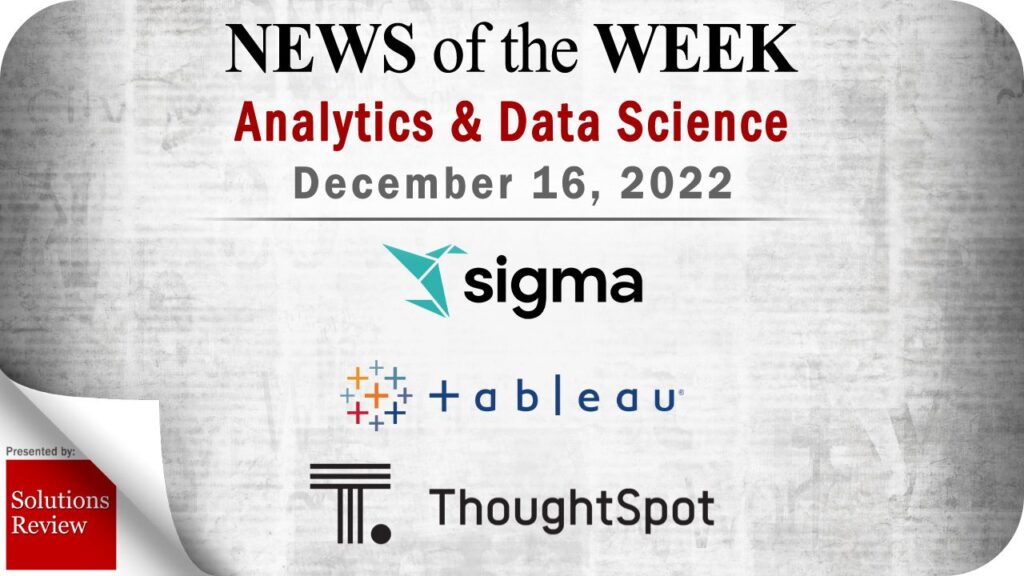 The editors at Solutions Review have compiled this list of the most notable analytics and data science news items for the week of December 16, 2022.
Keeping up with all the most relevant analytics and data science news can be a time-consuming task. Accordingly, our editors aim to provide a summary of the top headlines of the past week in this space. Solutions Review editors will curate vendor product news, mergers and acquisitions, venture capital funding, talent acquisition and other notable analytics and data science news.
Top Analytics and Data Science News for the Week Ending December 16, 2022
AI and data science vendor Dataiku raises $200 million in Series F funding
The Series F investment brings Dataiku's total primary funding since inception to approximately $600 million. This latest investment strengthens Dataiku's leadership position and will help accelerate its platform capabilities and prepare the company for its next phase of strong, sustainable growth.
Read on for more.
Sigma Computing Releases Live Editing for Collaborative Notebooks
Live Edit enables teams of up to 20 individuals to work simultaneously within Sigma Workbooks to explore data, build presentations and more – all in real-time and in the cloud. Combined with Sigma's built-in version history, Live Edit lets users see what has been changed and who made changes without the security risks or version control issues that arise from the legacy practices of working with extracted data and decentralized file sharing.
Read on for more.
Solutions Review Names 2023 Vendors to Watch in BI, Data Science, Embedded Analytics
This =Vendorse Watch have met at least two of our five points of inclusion and to some extent represent the evolution of the market. It is in that spirit that we turn our attention to the immediate future. Suppliers are listed in alphabetical order. Supplier names and logos are linked so you can learn more.
Read on for more.
Tableau unveils version 2022.4 with new external actions, image scrolling and more
Now you can make in-context decisions and automate workflows from your Tableau dashboards with a single click. By natively integrating with Salesforce Flow, Tableau External Actions helps automate sophisticated business processes. Using this capability, you can connect your dashboard to Salesforce Flow to create an opportunity, escalate a case, and more without leaving Tableau.
Read on for more.
ThoughtSpot Launches New AWS Edition and Partners with dbt Labs
The new Marketplace listing as well as the expansion of the channel management bank show ThoughtSpot's continued commitment to making it easy for customers to implement self-service analytics. The new partnership between dbt Labs and ThoughtSpot makes it possible to exponentially increase the value of analytical engineering work.
Read on for more.
For consideration in future analysistics and data science news roundups, send your announcements to the editor: [email protected].
Latest Posts by Timothy King
(see all)