Apocalyptic view of snow-clad Buffalo City in western New York terrifies internet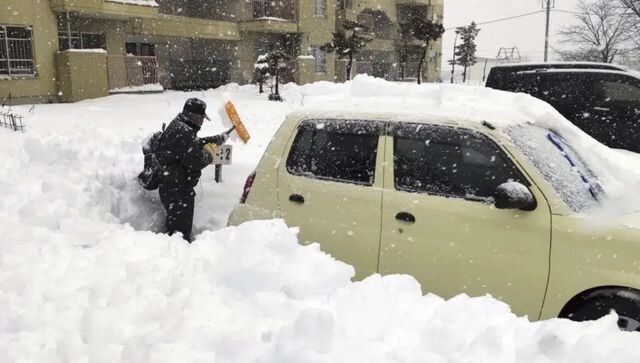 Photo for representation. AP
Since the winter season has arrived in the United States, people are finding it quite difficult to brave the brutal, chilled winter waves. But conditions worsened in Western New York when a heavy snowstorm with ferocious winds hit the region just before Christmas week. The blizzard took a heavy toll on the city of Buffalo as at least 10 people were reported dead following the weather-related issues on Sunday. Several clips revealing the tragic scenes in the snow-covered Buffalo City have been shared on social media.
A drone video depicting the tragic situation across Buffalo was shared by WeatherNation on their official Twitter. It showed how the streets were covered with a white snow and so were the houses. The cars parked along the roads were almost hidden. Conditions were considered life-threatening with a maximum temperature of -6 degrees Celsius, no power, and snowdrifts higher than vehicles. All traffic at Exit 46 of the New York State Thruway remained blocked for an extended period of time.
Residents were trapped in their homes. The weather outside also affected the emergency services which prevented the victims from calling for help. People were left stranded as rescue workers were unable to reach them as the fiery storm raged. To deal with the situation, the Buffalo area received an additional 200 National Guard personnel. However, according to the latest reports, the cold wind has now started to show signs of losing steam.
The caption of the post noted, "Snow drifting reaches SUV heights in the Buffalo area as this historic blizzard winds down. Some cars were abandoned in the middle of roads during the height of the lake-effect blizzard."
The terrifying sight left internet users stunned. They voiced their concerns in the comments section. Some found the condition too hard to believe, as the views seemed to them like scenes from a Hollywood movie.
One person commented: "Buffalo looks pretty dreary on a normal day. Looks apocalyptic here."
Another user said: "It's definitely caused by global warming."
An individual wrote: "Looks like another Blizzard of 78."
Here are some other responses:
On Christmas Day, more than 200,000 people in the eastern states of America lost electricity due to the cold conditions. As the storm continues, flights have been canceled and vacations spoiled. As many as 48 US states endured negative temperatures over the weekend due to severe gusty winds. Weather-related incidents have claimed the lives of more than 30 people so far.
Read all those Latest news, Trending News, Cricket News, Bollywood News,
India News and Entertainment News here. Follow us on Facebook, Twitter and Instagram.