Baker Mayfield Wins Internet By Saving Interviewer From Rough Altercation Between Broncos-Rams Players
Baker Mayfield led the Rams to a dominating victory over the dismal Denver Broncos. But the post-match celebration took an unexpected turn. Not surprisingly, the Broncos are miffed at their lack of success. But instead of turning it into on-field aggression, one particular player gave in to his intrusive thoughts.
ADVERTISEMENT
Article continues below this advertisement
Frustration seems to be the overall mood, not only of Broncos Nation, but also of the team itself. An interaction after their loss caught the eyes of fans and even interrupted Mayfield's interview. Fortunately, the QB had quick reflexes.
Baker Mayfield plays knight in shining armor
ADVERTISEMENT
Article continues below this advertisement
Tracy Wolfson of CBS was mid-interview with winning QB Baker Mayfield when an unexpected brawl broke out. But the QB was quick to alert Wolfson, and the two moved out of their way. Broncos defensive end Randy Gregory had some unfinished business with the Rams' Oday Aboushi. The two were former teammates with the Dallas Cowboys. Aboushi was pictured shaking hands with another player when Gregory lured him into a trap. The duo exchanged words before the latter threw at the linesman.
DIVE DEEPER
Not one to hold back, Aboushi sent a punch straight at Gregory. The two were then separated by teammates. One fan commented on Mayfield's quick moves.
Other fans focused on Gregory's performance. This user doesn't hold back
Another user does not hesitate to say-
One fan takes a shot at the Broncos
bro left the cowboys to play for the broncos id be mad at

— Jefe (@HighaThanABlimp) December 26, 2022
This user states his opinion loud and clear
He should have put up so much fight in the game. Then maybe they wouldn't have given up a 50 burger!

— Robert Wilson (@77BroncosFan) December 26, 2022
This fan thinks Gregory is just weird
Gregory had always been so strange. At least he got the bag lol. Strength.

— Ricky Ali (@Ricky_Ali33) December 26, 2022
The frustration within the team seems to be more contagious than expected.
ADVERTISEMENT
Article continues below this advertisement
Mayfield has made himself at home with the Rams
The Denver Broncos' season went from bad to worse. Russell Wilson has not given Broncos Nation a glimpse of anything above mediocrity. On the other hand, after a series of unfortunate events, Baker Mayfield finally found redemption. Despite being a recent addition to the Rams lineup, Mayfield has made himself comfortable in Sean McVay's offense.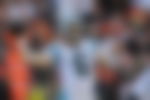 One user commented about the QB's performance boost by saying, "This is the Baker Mayfield we were promised." Indeed, Mayfield looked quite unstoppable in the short time he was with the Rams. There is no doubt that he will try to build his game for whatever the future holds for him.
ADVERTISEMENT
Article continues below this advertisement
Check out this story: Baker Mayfield is done with the Packers in five seasons, but why?