Big Covid Outbreaks in Small Chinese Towns: Baoding and Dazhou Share Struggles On Social Media
China's health code apps and the green QR code have been a crucial part of China's Covid strategy for nearly three years. Today, many Chinese are saying goodbye to the Health Code app and their lucky 'Green Horse'.
SSince 2020, China's health code apps have become completely ingrained in everyday life as a crucial tool in the country's ongoing fight against Covid-19. The Health Code system (there are at least 31 different regional health code applications across China) uses different sources of information, from self-reported health status to travel history and Covid test results, to determine whether or not a person gets a Green QR Code, a Yellow one, or a Red one.
Health code scans are required when entering communities, malls, supermarkets, commercial buildings, and are basically the key to moving around the city.
The green color means that you are safe (low risk) and have free movement, the yellow code (medium risk) requires self-isolation and the red color code is the most feared one: it means that you have either tested positive or at high risk of infection. Sticking to your green code is also referred to as 'Guarding the Green Horse' (read all about this in our Health Codes article).
'Health Code' is in Chinese jiànkāngmǎ 健康? 'Green horse' is in Chinese lǜmǎ 绿马 , which sounds exactly the same as the word for 'green code' (绿码). In a social media environment where homophones and online puns are popular and ubiquitous, it didn't take long for the 'green code' to turn into the 'green horse'.
But a lot is changing when it comes to China's fight against Covid. After an unstoppable Omicron outbreak across China, earlier optimization of Covid measures in November, major Covid outbreaks and unrest at Foxconn in Zhengzhou, and protests in several Chinese cities, and a previous easing of Covid measures in several cities, Chinese central authorities on Wednesday made changes to the country's dynamic Zero Covid policy.
These changes also include a stop to Health Code checks when traveling, and an end to the requirement of negative nucleic acid tests for many places (unless it is about special places like nursing homes, orphanages, medical facilities, etc.)
On Thursday, December 6, Chinese social media users began to bid farewell to the Health Code system (#告别健康码#), posting photos and videos of QR posters and travel code information being taken down at stations.
The hashtag "Say Goodbye to Health Code" has become a top trending hashtag on Weibo, and has already received more than 660 million clicks on the platform as of 10:00 p.m. local time.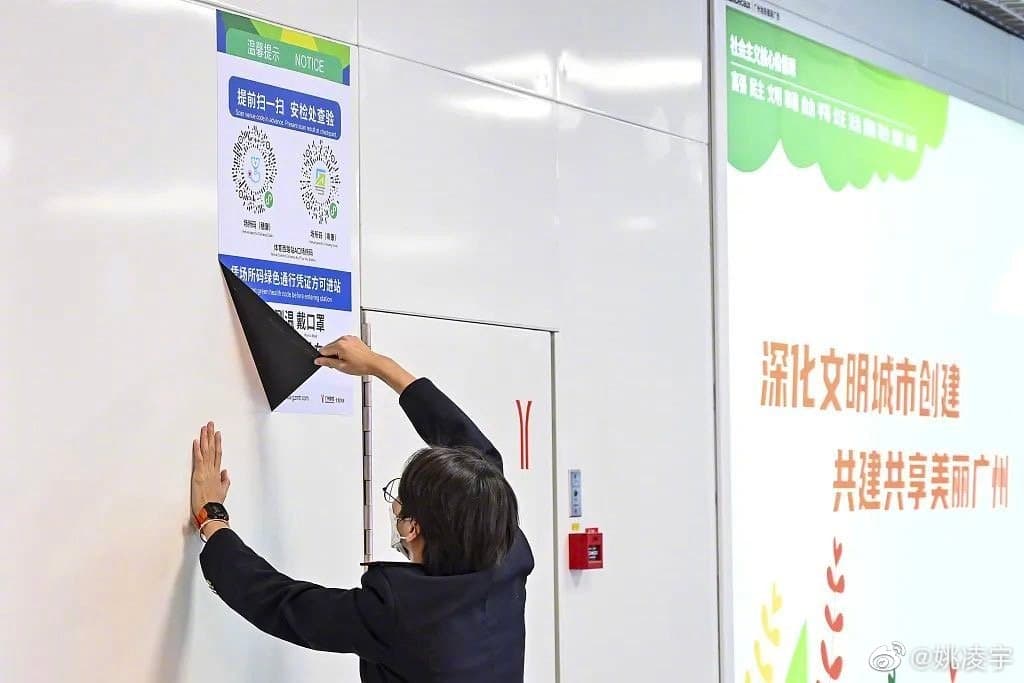 The Zhengzhou subway station is one of the places that have already removed their Health Code posters (#郑州地铁所下健康码迪空#).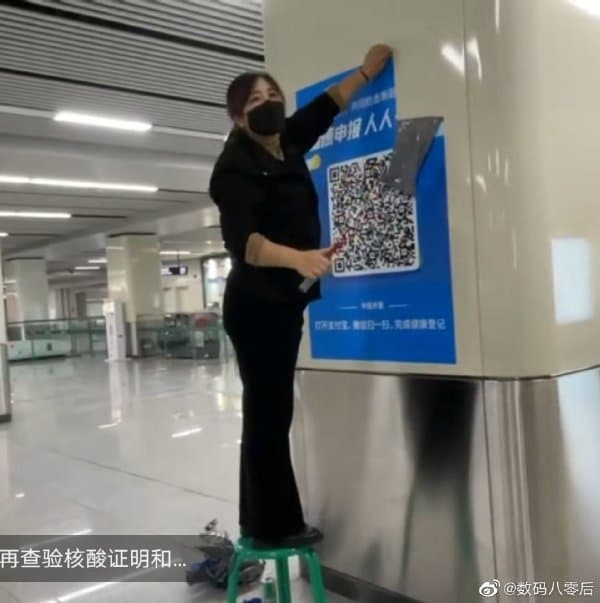 In the Guangzhou subway, posters were already removed on Wednesday.
Chinese media The Observer (电影者网) also published several photos of station staff taking down QR code posters, using the hashtag "Many Stations Removing Health Code Posters" (#多地车站敒下健康码普题#).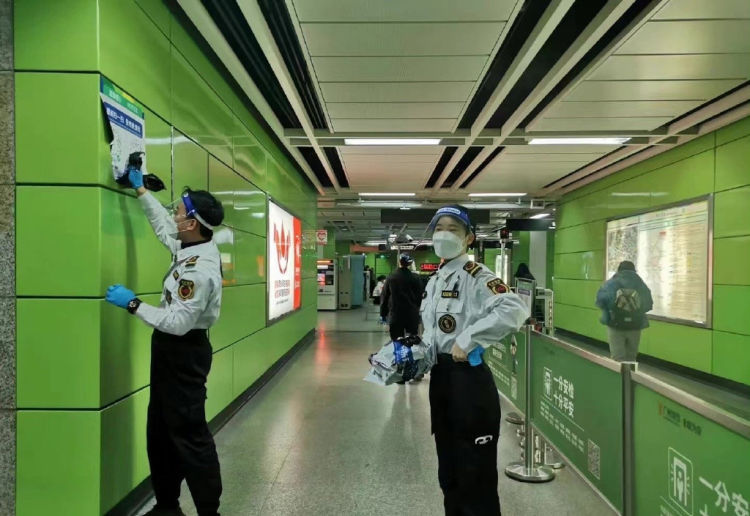 "I did not need to scan the Health Code when I entered the university today. Goodbye, Health Code!" one netizen said, with another Sichuan-based blogger also writing: "The sports stadium, the mall, I didn't need anything today."
"I waited so long for this, and it still came unexpectedly. From now on we will have to protect ourselves," said one comment. "It just feels amazing," wrote one Guangdong blogger.
This idea of ​​the government protecting people for three years, and now it's up to the Chinese people to protect themselves, is a recurring one that you can see all over social media. Many feel that no Covid measures such as mass testing, local lockdowns, centralized quarantines, health code systems, 48-hour negative nucleic acid test requirements, etc. all were government measures that protected the people.
Without this layer of protection, many say that individuals must now take responsibility for their own health.
But there are also those who criticize this school of thought:
"I especially don't like that talk of 'the nation protected you for three years, you can no longer rely on them and will now have to rely on yourself', the people who say that are either stupid or spoiled. What is the nation? The nation is the people, the people are the nation, the three-year battle against the epidemic is one in which the masses have sacrificed their time, space, money and even their freedom. Each person paid his share of obligations. What's your talk of 'they won't look at us, it's up to you now'? The best fight against the epidemic is one with an objective and scientific approach. Not a single country in this world is really 'laid flat' [to be completely passive in light of epidemic]; every country was actively exploring and searching for better ways to live with the virus. This is a people's war. And in war you will always have casualties. What we need to do is to balance between survival and development, to minimize the damage as much as possible."
'It doesn't help to say goodbye to it,' said one netizen: 'The most important time will be when the virus is gone.
There are also those who expect the coming time to be strange: "I think most people will have a moment after this that they will take out their QR code to scan when entering a public place. After all, it wasn't just a few days, it's a habit we've learned for three years."
Some people complain that they have yet to see any differences in their area or city, from Changsha to Shenzhen, and are eagerly waiting for changes to be implemented.
Meanwhile, green horse images are doing the rounds on Weibo, where many are saying goodbye to the mystical creature. "For three years I was able to look after my green horse," one person wrote: "Goodbye, green horse."
"Goodbye and I hope to never see you again," another Weibo user replied.
Read more about China's health codes here. To read more about the end of 'Zero Covid', read here.
Get the story behind the hashtag. Subscribe to What's on Weibo here to receive our newsletter and access our latest articles:
Did you notice an error or want to add something? Please let us know in the comments below or email us. First-time commenters, please be patient – we will need to manually approve your comment before it appears.
©2022 Whatsonweibo. All rights reserved. Do not reproduce our content without permission – you can contact us at [email protected]