Do you invest and use social media? You could be a criminal
This evidence was helpful, the court found, in establishing that Scholz did operate a financial services business, which he was neither licensed nor qualified to do.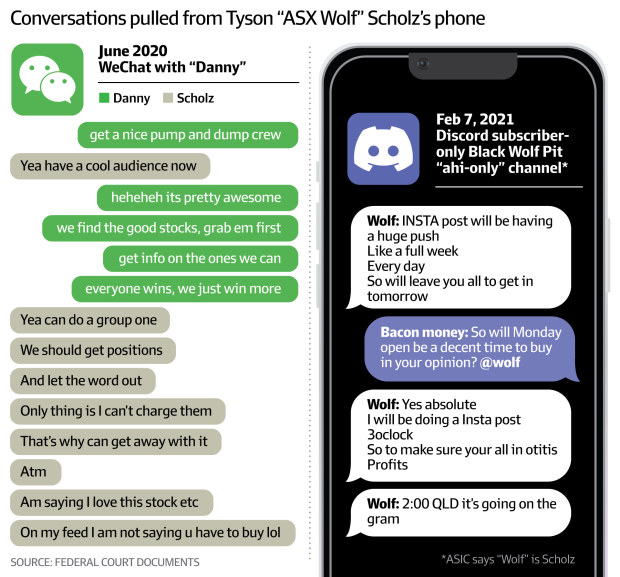 But even setting aside these fruits of ASIC's raids, the court ruled that Scholz was still breaking the law just by his social media posts alone, even though he said he was "careful" not to actually tell his followers say to buy.
"It did not matter that the stories contained no overt recommendation to acquire the shares," Federal Court Judge Kylie Downes concluded. "It was enough that Mr Scholz referred to a company or its shares in the stories, which was usually done in a way that indicated he liked that company."
The ruling supports ASIC's strict stance on what constitutes financial advice. In a closed briefing in April, ASIC shocked a handful of popular influencers by warning that expressing any opinions about their personal investments online could break the law (even if they don't earn their social media followers through promotions or sponsored posts). .
This means that regular investors, and not just influencers, can be accused of giving illegal financial advice just by sharing what stocks or managed funds they hold or own.
While stock tips have always been tossed around at barbecue joints and the back seats of taxis, the case suggests that social media is not seen as the same thing.
Tread carefully
The courts and regulator clearly view these online forums as particularly problematic and influential, especially with the hundreds of thousands of tech-savvy Millennial and Gen Z investors engaging with markets for the first time since the start of the pandemic.
For investors, the obvious lesson is to tread carefully when expressing any opinions about online investments. They should also keep in mind that even seemingly encrypted WeChat or Discord messages may one day be scrutinized by a court and members of the public or press.
But there is also a lesson for the government, which will decide early next year whether or not to reform Australia's notoriously complex financial advice laws.
While policing influencers may be in the public interest, they probably only have any followers to begin with because professional financial advice is prohibitively expensive for most. The case highlights just how much people want and need advice – and the dangers inherent in making it a luxury for the wealthy.
Financial Services Minister Stephen Jones on Friday received a copy of the Quality of advice Review's final report, which (if its draft proposals are anything to go by) will recommend a radical rethink of the law to cut red tape and make regulated and licensed advice more accessible.
The minister says he will read the report on the Christmas holiday before deciding on how much of it to implement.
He must first read the court ruling against Scholz.