Mom Banning In-Laws Posting Baby Pics on Social Media to 'Showboat' Cheered
A mother has been applauded for asking her family not to post pictures of her child on social media.
In a post on London-based Internet forum Mumsnet on Monday, user OptimusPrime31 explained her dilemma as she worried about the potential dangers of her child's image being online.
"It feels like they're just posting pictures to show people at work or their neighbors," the mother said.
Research has found that 92 percent of American children will have some form of online presence by the time they are two years old, while more than a third of children will have so-called "digital lives" before they are even born. as parents share. scan pictures and updates during pregnancy.
The study, which surveyed 2,200 mothers with young children in the US, UK, Germany, France, Italy, Spain, Canada, Australia, New Zealand and Japan, asked them about their feelings about sharing photos of their children online. American parents are more likely to share their baby photos and information online than those from other countries, but 73 percent of parents in the UK, Spain, France and Italy also said they would be willing to share images of their babies.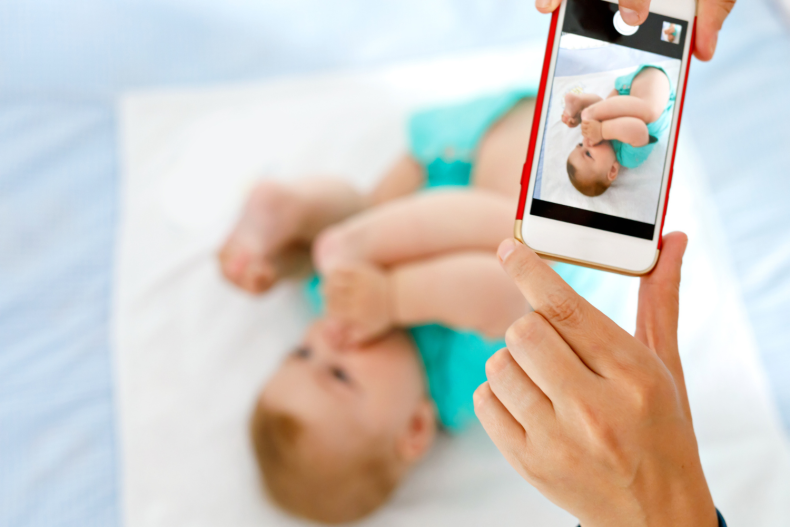 But this mother explained that she was not keen on the idea of ​​her child's information being shared online. She wrote: "Am I being unreasonable to ask family not to post photos online as I feel that if my child wants all those photos publicly available they can decide for themselves when they are older?"
"I feel that privacy is very important," she said. "I don't like the idea of ​​my baby's childhood being all over social media."
Leah Plunkett, author of Sharing and head of the Learning Experience & Technology team at Harvard Law School said News week: "Sharing photos of your kids online compromises your kids' privacy. In childhood, privacy means giving kids a protected space to play—to make mischief, make mistakes, learn from them, and raise them better become because they made it. When photos go online that protected space to play shrinks or disappears."
Earlier this week, 35-year-old Meredith Steele gained viral attention on TikTok when she warned parents against sharing photos of their children after her own family was "digitally kidnapped".
Steele was shocked to discover her children's photos had been stolen and re-shared by a stranger in an attempt to live a fake life online, using new names and identities. The mother explained that she was horrified, telling South West News Service: "It was like they were playing with Barbie dolls, but the dolls were my children."
'Parents are right to be concerned about pictures of their children online'
On Mumsnet, users quickly sided with the mother in question, telling her that she was right to ask her family not to share pictures of her child.
One commenter said: "You are not being unreasonable and in my opinion you are making the best decision for your child," while another added, "I took the same approach when I had my son three years ago and everyone remained. thereby."
"My husband understands where I'm coming from, but doesn't feel as strongly about it as I do," explains the original poster.
"Parents are right to be concerned about pictures of their children online because once pictures are posted online, parents lose control over these pictures," Plunkett warned. "Even if photos are posted to a social media account set to 'private', privacy is not guaranteed. Images can be re-shared and re-purposed, both now and in the future, both by individuals and by institutions."
"It's perfectly reasonable to say you don't want pictures of your child on social media," said another commenter. "Some people seem to live through their social media accounts, so may need more reminders. Others will ignore you, which means your only option will be to limit their contact with your child or physically stop them from taking pictures ."
"We asked for no photos on social media before our daughter was born," said another reply. "I think they thought it was a little weird and they were sad not to be able to share photos, but they went along with it."
When it comes to discussing children's photos on social media with your family, Plunkett had some advice.
"You can have a conversation with your family about posting pictures of your children online in the same tone and using similar language that you would use to talk to your family about a child's food allergy or restriction," said she said. "Gently and directly let them know that you appreciate them wanting to connect with you and your child by taking and sharing photos, and that in order to keep your child safe, you ask that they only share photos directly with you via text or email, not by posting on social media."
News week could not verify the details of the case.
If you have a similar family dilemma, let us know via [email protected] We can ask experts for advice, and your story can be featured News week.