Buy These 3 Metaverse Stocks Before They Explode – December 21, 2022
The metaverse is a shared virtual 3D world or worlds, which are interactive and cooperative. It includes a range of technologies in the field of collaborative spatial computing. The technologies include interactive 3D graphics, augmented reality ("AR"), virtual reality ("VR"), online economies, multi-user games and more.
Once thought of as science fiction, the metaverse is now seen as the future of gaming, entertainment, branding, e-commerce and enterprise. Any device capable of delivering an immersive 3-dimensional experience (including a computer or even an iPhone) is considered metaverse-capable.
With more and more companies from various industries joining the Meta bandwagon, it is clear that sooner or later metaverse will dictate the next generation of the Internet as it presents a significant investment opportunity in the coming years.
Growth Prospects for Metaverse Players
The global metaverse market size is expected to grow from $61.8 billion in 2022 to reach $426.9 billion by 2027, at a compound annual growth rate ("CAGR") of 47.2% during the forecast period, according to a MarketandMarkets report.
The primary market for online game makers and gaming hardware could exceed $400 billion in 2024, while the remaining business will come from live entertainment and social media. Gaming, AR and VR create a $413 billion primary market for metaverse, according to a Bloomberg Intelligence report.
The Metaverse Standards Forum, hosted by the Khronos Group, was created with the goal of establishing interoperability standards for the predicted metaverse. Participants in the Metaverse Standards Forum include many of the largest companies operating in the space, from chip manufacturers to game companies, as well as established standards-setting institutions such as the World Wide Web Consortium (W3C).
As major global indexes continue to tumble as the Fed turns hawkish to tame stubbornly high inflation, smart investors should therefore keep an eye on companies such as Meta Platforms (META – free report), Microsoft (MSFT – Free report) and Roblox (RBLX – Free Report), which is gearing up to capitalize on the metaverse boom. These companies currently carry a Zacks Rank #3 (Hold). You can see the full list of today's Zacks #1 Rank (Strong Buy) stocks here.
Year-to-date performance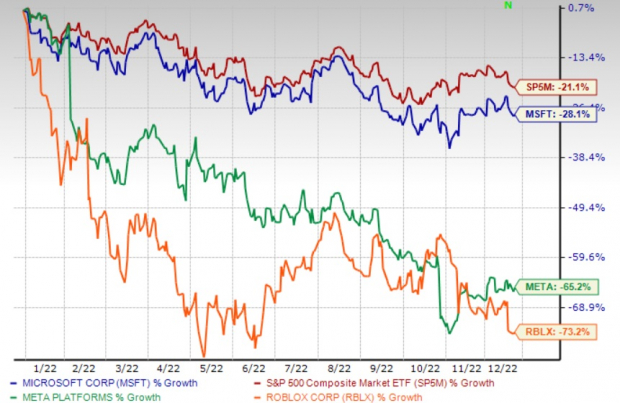 Image source: Zacks Investment Research
Meta aims to create economic opportunities in the metaverse
Facebook parent Meta Platform's metaverse ambitions are well known. The Facebook parent will introduce a new policy in the Metaverse Standards Forum to develop the metaverse as an independent commercial platform aimed at creating new economic opportunities. Such policies will help recognize the need for decentralized systems and build collaboration between the public and private sectors.
Per META, the metaverse will be worth $3 trillion by 2031. Major cities like Dubai, Seoul and Taiwan plan to take advantage of the recent surge in metaverse popularity. Metaverse also offers new opportunities for creators to develop new forms of art and entertainment, build more interactive relationships with their audiences and create new economic opportunities for themselves.
Meta is investing heavily in AI technology, which will help build the metaverse as a commercial virtual reality independent of the real world. Meta recently launched its first high-end virtual reality headset, Meta Quest Pro, at the Meta Connect event.
Meta has partnered with NVIDIA (NVDA – Free report) to build an AI research supercomputer, helping META AI researchers build different AI models crucial to creating the metaverse. NVIDIA wants to turn its leading position in providing the computer hardware for the metaverse into a set of software tools for creating and selling content within virtual worlds.
The Zacks Consensus Estimate for current year earnings has remained steady at $8.96 per share over the past 30 days.
Microsoft paves way for Metaverse through teams, games
Microsoft strives to become the software provider in the metaverse. To build the metaverse, Meta Platforms has partnered with PyTorch Foundation, co-founded Microsoft, to bring new work and productivity tools to Meta Quest Pro and Meta Quest 2 next year. This includes applications such as Microsoft Windows 365 and Microsoft Teams and the ability to join a Teams meeting from within Meta Horizons Workrooms.
The company's Mesh for Microsoft Teams can be considered a gateway to the metaverse and used in a standard laptop or smartphone. The first step most users of Mesh for Teams will take is to join a standard Teams meeting as a custom avatar of themselves instead of as a static picture or on video. Organizations can also build immersive spaces – metaverses – within Teams.
Microsoft is set to acquire Activision Blizzard in an all-cash deal for $68.7 billion to competitively enter the world of gaming in the metaverse. Microsoft's strategic plan to buy Activision helped it become the third largest gaming company in the world and gave it the expertise to stake its claim in the multimillion-dollar metaverse market.
Furthermore, Microsoft's Xbox gaming system can be used to provide users with access to the metaverse.
The Zacks Consensus Estimate for current year earnings has remained steady at $9.54 per share over the past 30 days.
Roblox Metaverse Creates a Point Amidst Rising Competition
In a virtual world independent of AR and VR technology, the Roblox Metaverse is an early entrant to the Metaverse. It has all the basic features that the audience has come to expect from the Metaverse, ranging from surreal virtual world experiences to a cryptocurrency-based economy.
Roblox metaverse is accessible on smartphones and other mobile devices without the need for VR headsets. Therefore, it is definitely easier to access and fun to play with. Top brown games, which witness millions of visits include Blox Fruits, Shindo Life, Pet Simulator X, Sonic Speed ​​Simulator, King Legacy, Gacha Online and Livetopia.
The Roblox Studio is the company's proprietary engine, which allows its creators to build virtual worlds and games. These creators are also allowed to publish their purchasable in-game items. All users are allowed to buy items in the game, but only a few members of the Roblox Metaverse are allowed to sell them through their premium membership.
Events such as concerts and ceremonies are the backbone of the economy of the Metaverse. The Roblox Metaverse aims to organize events suitable for its user base, which consists mainly of children under the age of 16. These events can have different goals, such as brand endorsements and fundraisers.
Celebrities and rappers like Lil Nas X and David Guetta have already conducted concerts for the Roblox Metaverse.
To top it off, RBLX already boasts its own digital currency, Robux, which has over 50 million daily active users.
The Zacks Consensus Estimate for Roblox's current year earnings has remained steady over the past 30 days at a loss of $1.58 per share.